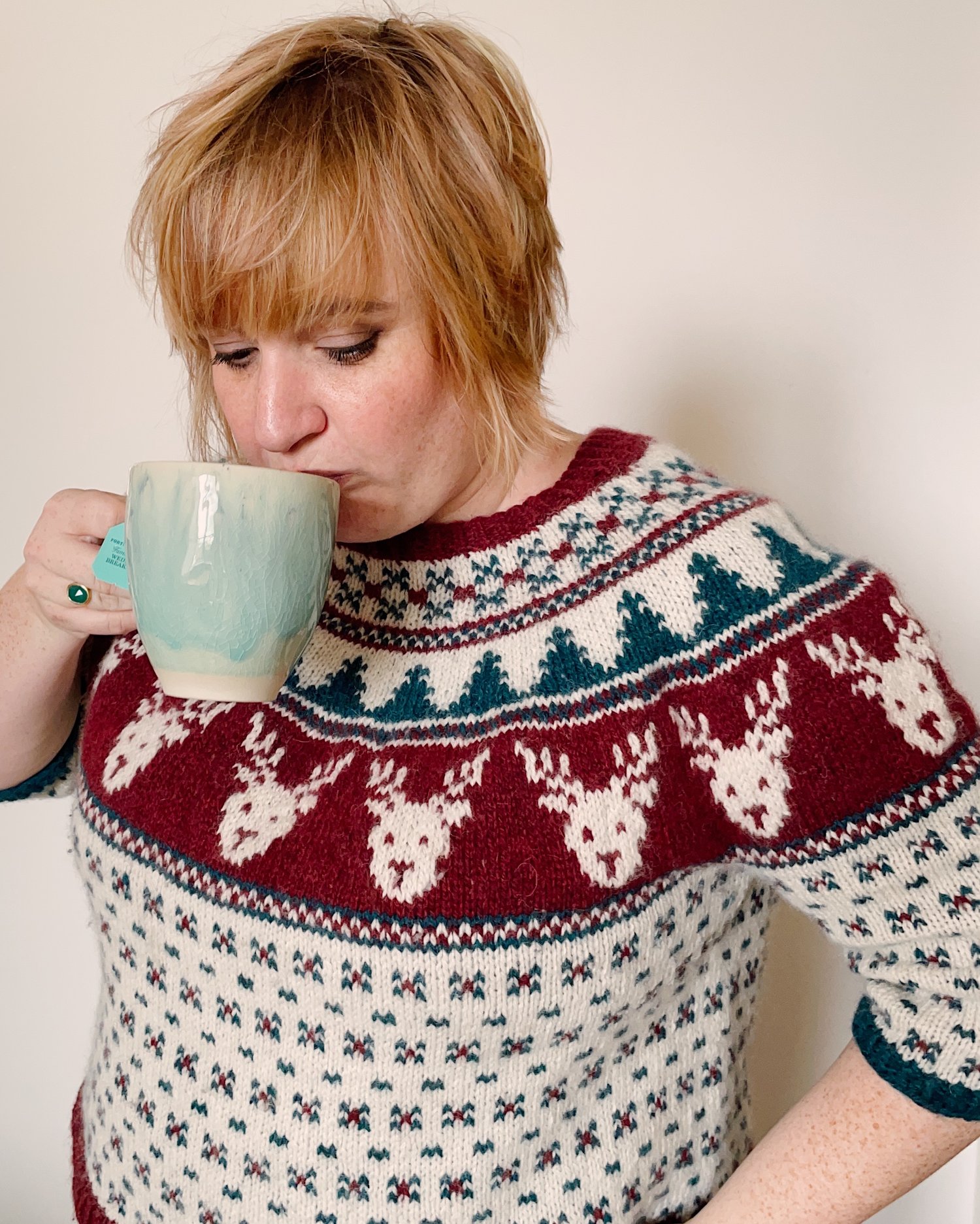 Rockin' Reindeer, Richard
On Sale
Why buy a cheap, throwaway Christmas jumper, when you can knit one to treasure year after year? With cute Reindeer motifs, Christmas trees, and festive colour palette, Rockin' Reindeer, Richard is as Christmassy as can be.

The circular-yoked, size-inclusive Rockin' Reindeer, Richard jumper uses DK yarn – such as The Fibre Co's Lore - to knit up in plenty of time for the big day. With twisted rib detailing, and beautiful stranded colourwork, it's a Christmas jumper to be proud of.

What's more, it's graded in 9 sizes to fit from a 28in to 62in bust. And with instructions on how to alter the sweater for the full- busted, you can create your perfect fit.

Key information
Rockin' Reindeer, Richard is knitted top-down, in the round. It uses DK-weight yarn, so works up quickly and is nice and warm to wear. The back neck is slightly raised with German Short Rows for a comfy fit, and the pattern contains instructions to work 3⁄4 length or full length sleeves.

The colourwork in this sweater is worked using the stranded colourwork technique, and due to the nature of the reindeer motifs, there are some long floats to work with. I recommend you "catch" your floats at the back of your work to prevent them snagging or pulling on the jumper during wear. The pattern includes a link to a video tutorial explaining how to do this.

Where numbers vary according to size, they're written as 1 (2, 3, 4, 5) 6, 7, 8, 9

Suggested yarn:
DK-weight yarn that's suitable for colourwork. I've used The Fibre Company Lore in the shades Serene (white), Healer (green), and Sensitive (red).
You may find it easiest to work with a similar non-superwash yarn, to help create grip in your colourwork.

Finished size, fit, and schematic:
Please see the pictures for table showing the finished measurements of the garment and the full yarn requirements.

The Rockin' Reindeer, Richard jumper is designed to fit with 2-4in/5-10cm of positive ease for a comfy, classic look. The dimensions shown in the table are the measurements of the finished garment, so to get the best fit, take one of your favourite sweaters, compare measurements, and knit the size that's the closest match.

The pattern includes instructions to change the distribution of stitches between the front and back when separating for the sleeves – adding 4in/10cm to the front of the sweater, and taking the same amount from the back. The overall chest circumference remains the same as the unadjusted version, but with more room for a full bust. If you wish to remove some of this fabric from your sweater after your bust, then instructions are included to take 4in/10cm from the front only.