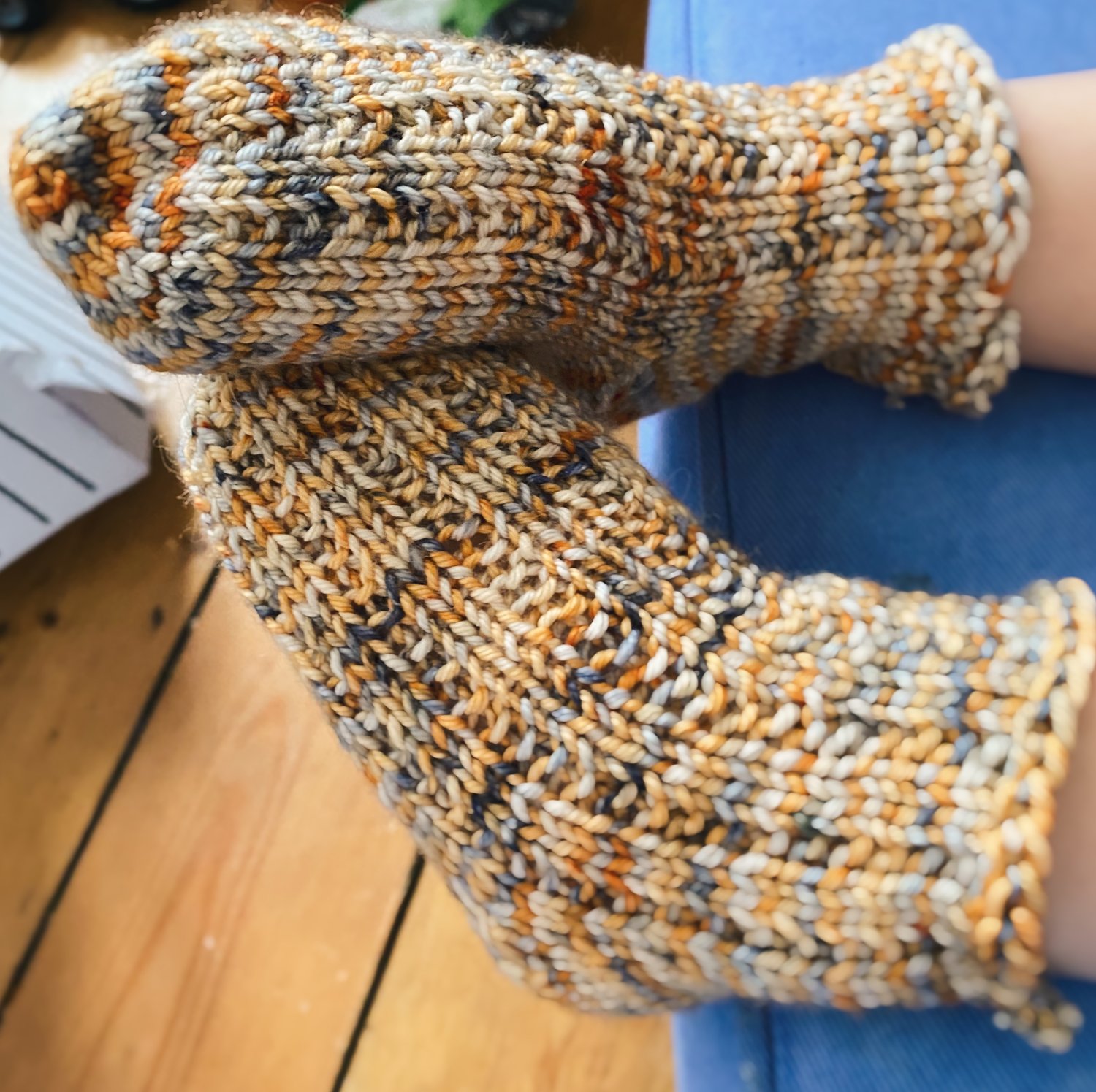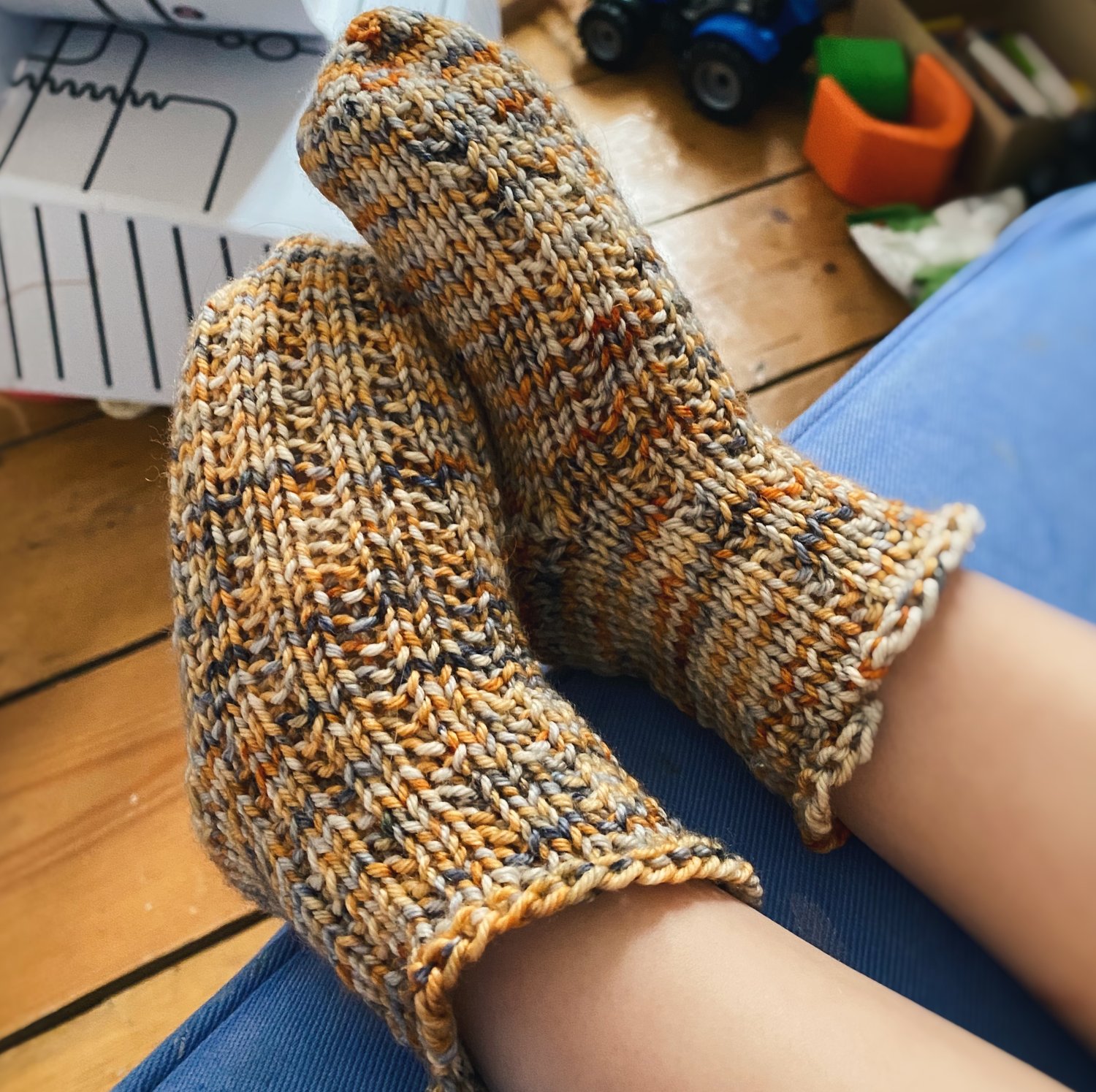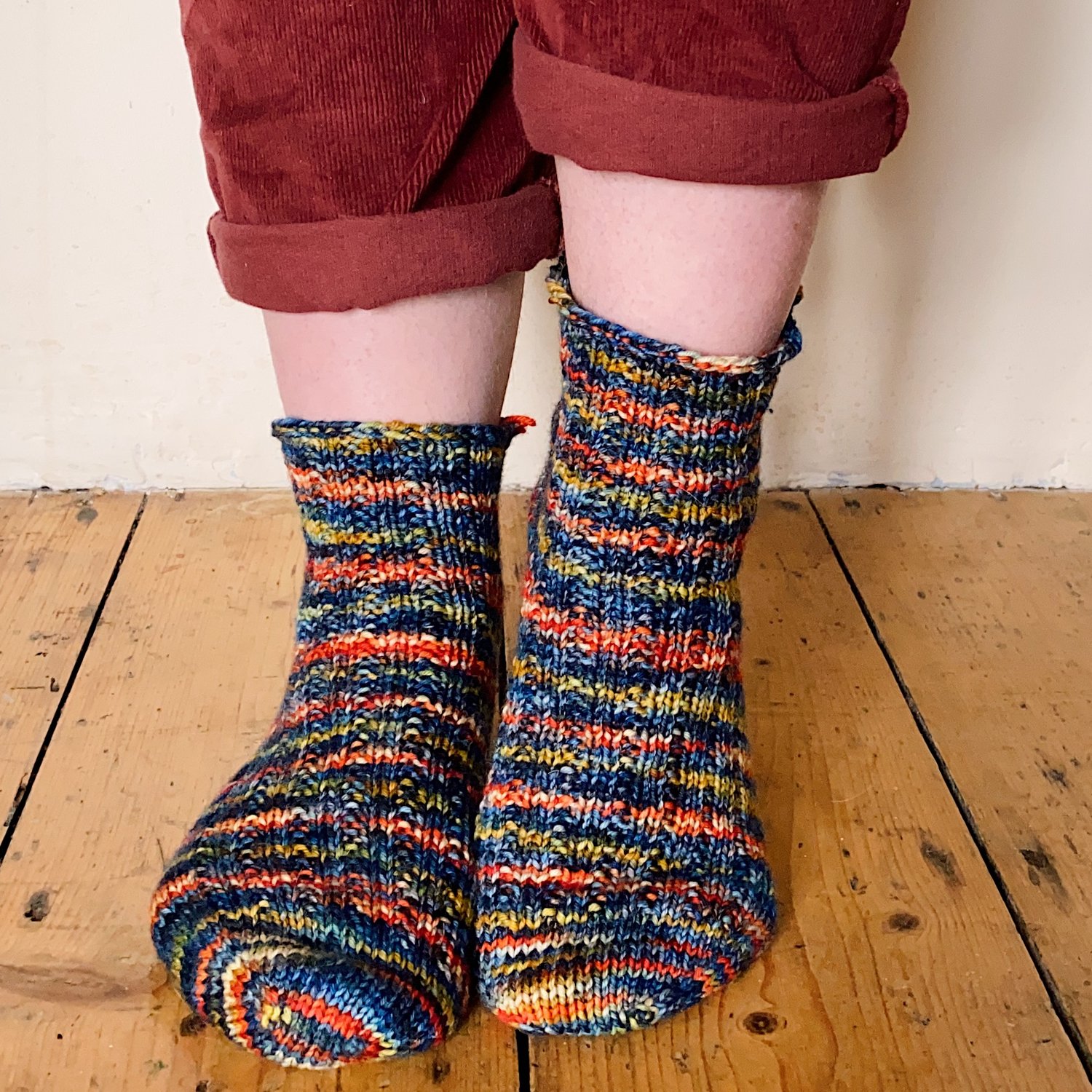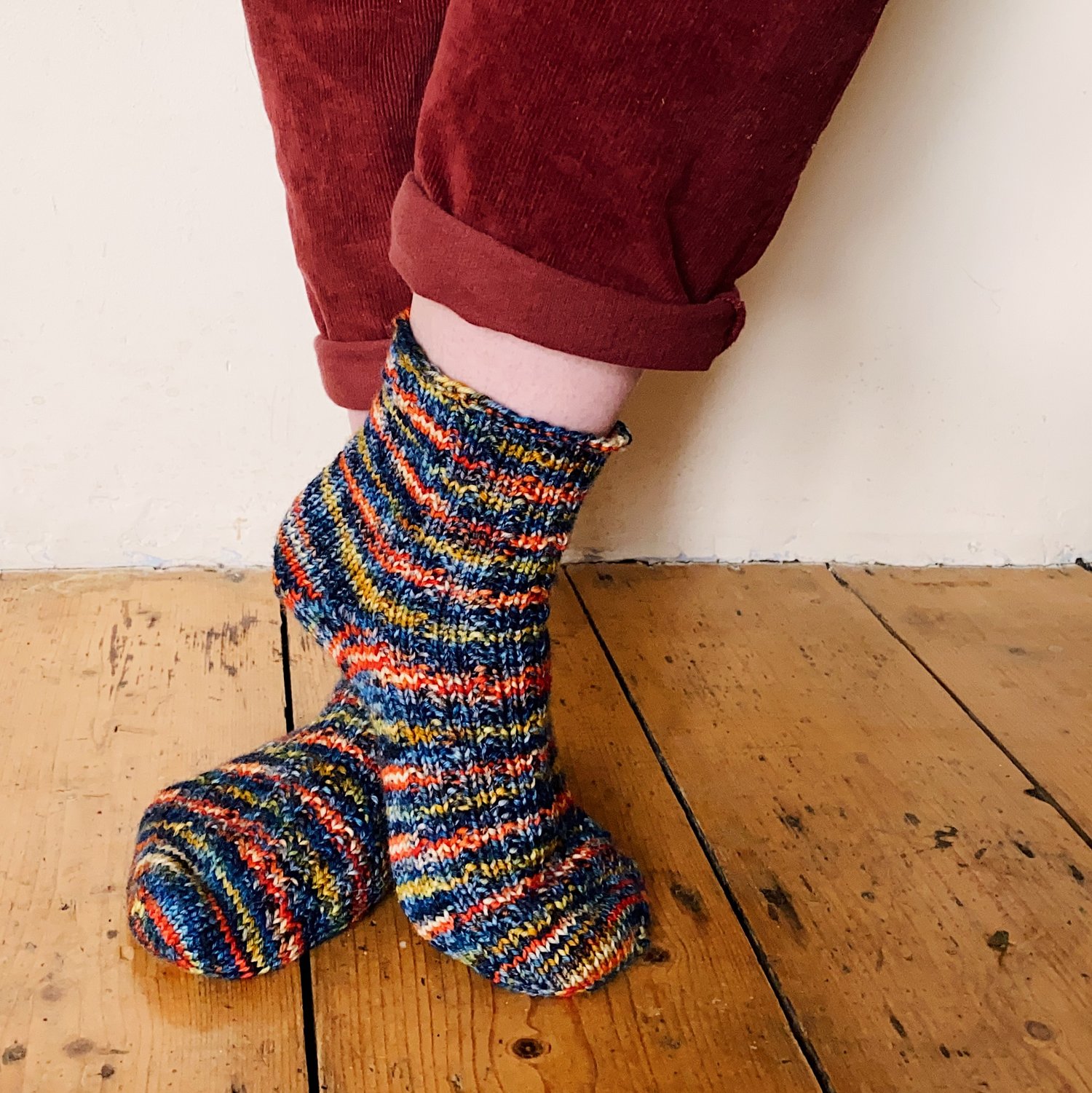 RSVP As Pending socks
On Sale
Whether you're wearing the RSVP as Pending socks around the house to keep your toes cosy, or inside wellies for a walk through the mud, you'll have the whole family sorted.

These simple, quick, and cosy socks use DK-weight yarn to provide that extra bit of snuggliness. And with 7 sizes ranging from Baby to XL Adult, you'll find everyone's perfect fit.

And they're great fun to knit; with a fuss-free toe up construction, simple broken rib pattern, and fun German short row heel, they're a great beginner's sock pattern. The DK-weight yarn and 3.25mm needles make it easy to see what you're up to, and means they knit up nice and quickly.

The smaller sizes are great for using up scraps of yarn, and with all but the two largest sizes using less than a 100g skein of yarn, they're a great way to use those single skeins that are hanging out in your stash.

Key information
The RSVP as Pending socks are knitted toe-up, in the round. You can knit them using either double pointed needles (DPNs), or a long circular using the magic loop technique.

The heel of the sock is turned using a German short row heel. The pattern contains links to tutorials showing exactly how to work German short rows, so even if you've never used them before you can see just what to do.

The RSVP as Pending socks come in 7 sizes, with instructions written as Baby (Toddler, Child, Small Adult, Medium Adult, Large Adult, XL Adult). Make sure you're following the correct instructions for your size.

Suggested yarn: The samples are knitted in WildWool DK, an 80% merino and 20% nylon yarn (225m/246yds per 100g). Most DK-weight yarns will work with this pattern, but you may want to look for a yarn with some nylon content to provide a bit of extra strength.

Picking a size:
The RSVP as Pending socks are designed to be worn with a bit of negative ease to make sure that they stay put on your feet. Pick a size with a circumference 1-2.5cm (0.25-1 in) smaller than your foot, and knit them to whatever length you desire.

Baby: 9.5cm (3.75in)
Toddler: 12cm (4.75in)
Child: 14.5cm (5.75in)
Small Adult: 17cm (6.75in)
Medium Adult: 19.5cm (7.75in)
Large Adult: 19.5cm (7.75in)
XL Adult: 24.5cm (9.75in)
Yarn requirements:
The amounts given below are based on my preferred length of sock; the Medium Adult sample rises 12.5cm (5in) from the end of the heel turn, and the other sizes are written to keep the same proportions.

If you're planning on knitting your socks particularly long or short, then the amount you need will vary.

Baby: 48m (52yds)
Toddler: 76m (83yds)
Child: 112m (122yds)
Small Adult: 152m (166yds)
Medium Adult: 200m (218yds)
Large Adult: 255m (279yds)
XL Adult: 315m (345yds)
For hints and tips on yarn substitution, have a look at my blog.

Suggested needles (and notions): 3mm (US 2.5) and 3.25mm (US 3) double pointed needles, or long circular for magic loop, stitch marker, tapestry needle.

Gauge: 25sts and 34 rounds to 10cm (4in), measured over broken rib pattern, knit in the round.