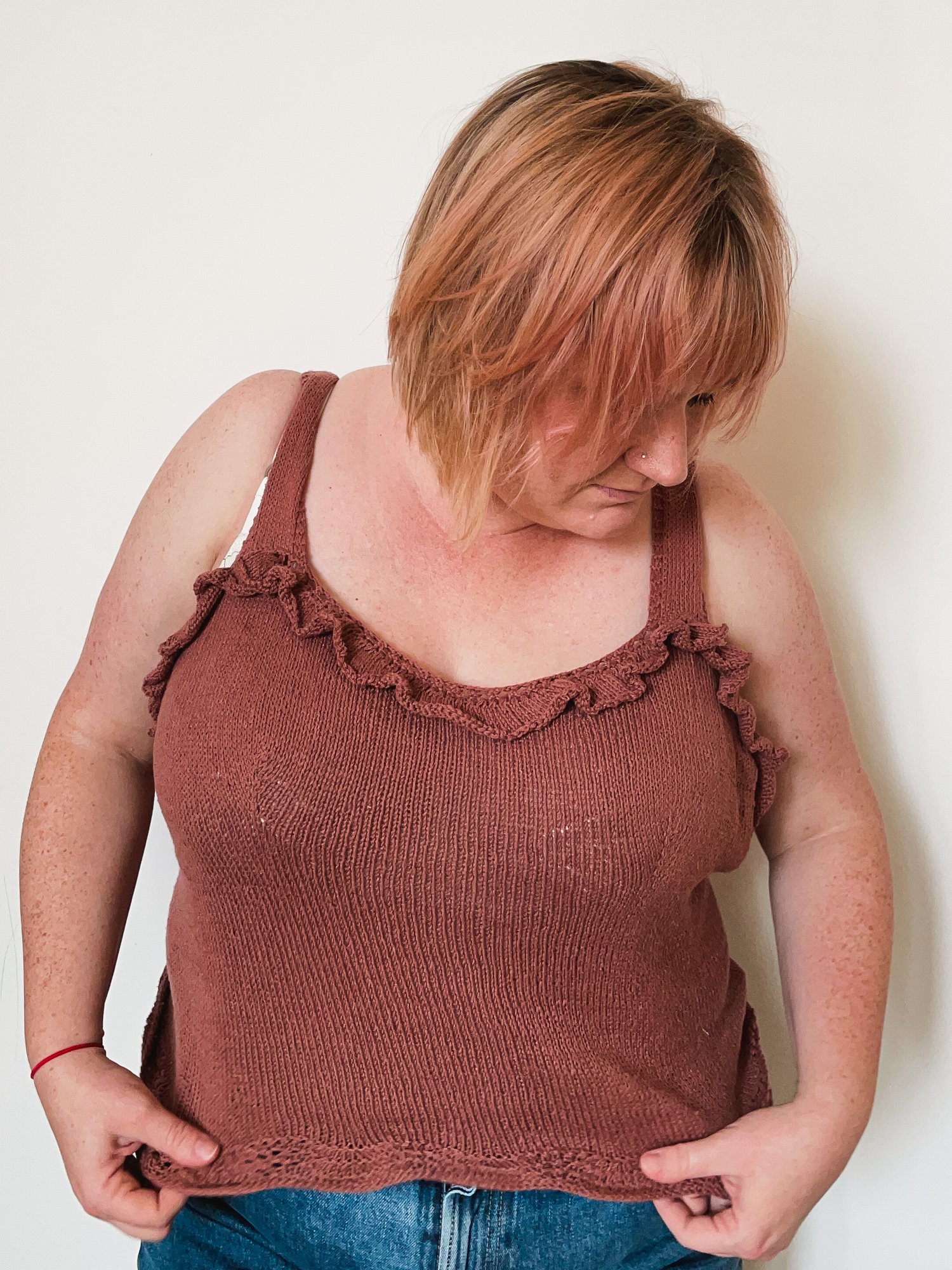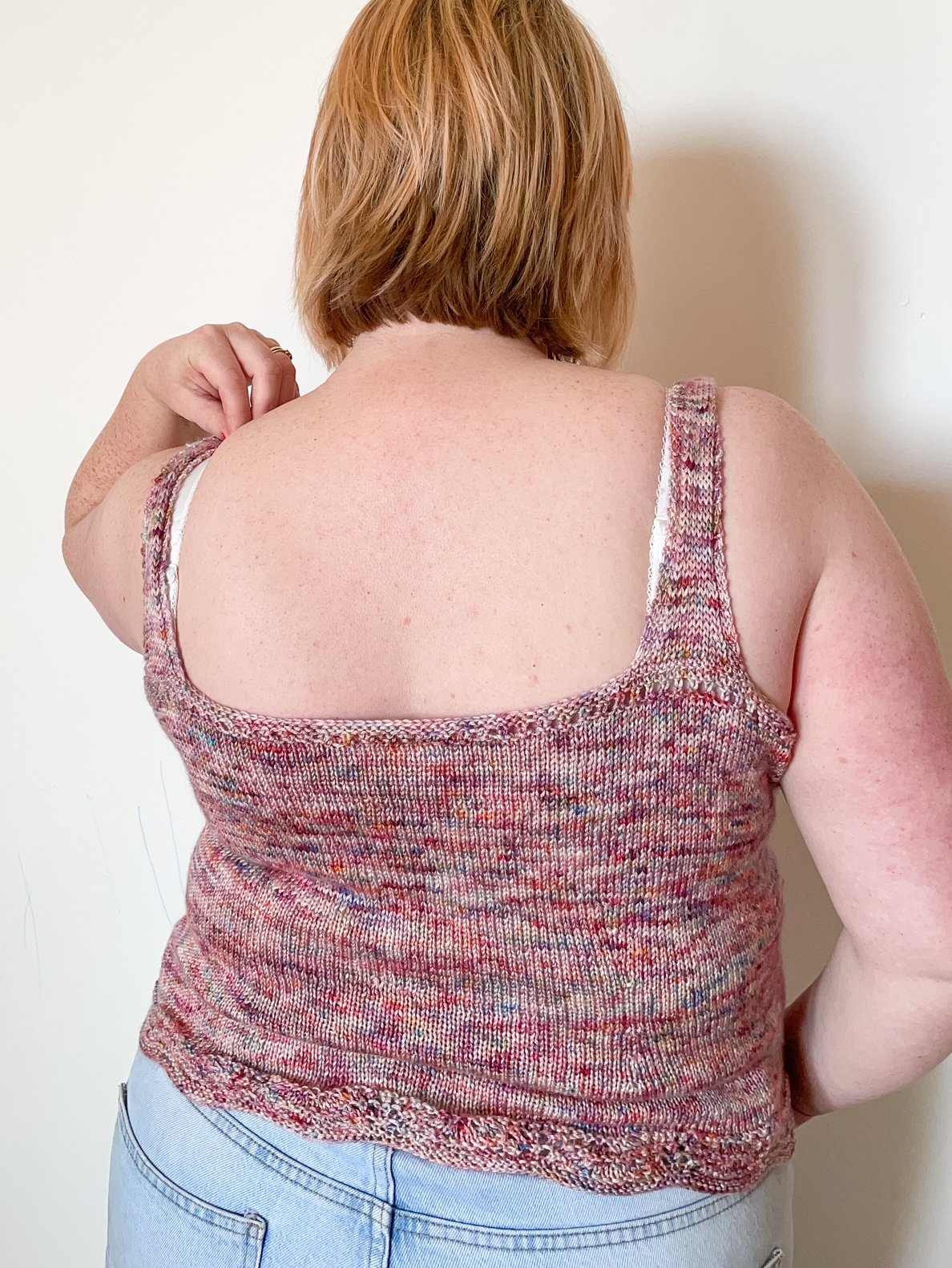 Tallulah camisole
On Sale
Talullah is a size-inclusive, lightweight summer camisole, designed to have a completely customisable fit. Optional waist shaping, paired with an optional full bust adjustment to add either 2in or 4in to the front of your top, mean you can get exactly the fit you want. And to top it off, you can even add a frill.
Talullah is worked all in one piece from the bottom up, with the front shaped entirely with German short rows. The straps are worked last, and can be placed precisely to your preference – or knitted separately and attached with buttons.
Key information 
Talullah is worked in the round from the bottom up, starting with a lace border, followed by the stocking stitch body. Markers are placed for the optional shaping for waist, and for the optional full bust adjustment.
The front of the top is shaped with German short rows to raise it up, before the body of the top is finished with an eyelet lace edging. 
Finally, the straps are picked up at the front and back and grafted joined together at the shoulders with a 3 needle bind-off. The pattern suggests placement, but construction makes it easy to customise the placement to make sure your bra straps are covered.
There's also an option to knit the straps separately and use the eyelet holes of the top edging as buttonholes, allowing for different placements according to your outfit.
Talullah is graded in 9 sizes to from a 28in/70cm to 66in/165cm bust. Where numbers vary according to size, they're written as 1 (2, 3, 4, 5) 6, 7, 8, 9
Suggested yarn: 4ply yarn that meets gauge. The variegated sample is knitted in Weku Yarns silky sock (55% Bluefaced Leicester, 45% silk, 400m per 100g). The frilled sample is knitted in Knitting For Olive Pure Silk in Plum Rose.
The pattern would also work with any plant yarn that drapes well, such as bamboo, linen or cotton – but if you're planning to use one of these fibres, be sure to read the note on yarn choice in the fit section of this pattern and consider working a smaller size to counteract the tendency of plant fibres to stretch out with wear.
Yarn requirements: 
490 (560, 620, 685, 750) 815, 880, 950, 1020 m / 540 (615, 680, 750, 820) 895, 965, 1040, 1120 yds of 4ply yarn.
If you're planning to work the optional ruffle, you'll need an extra 64 (73, 81, 90, 99) 107, 116, 124, 133 m / 70 (80, 89, 98, 108) 117, 127, 136, 145 yds.
These yarn requirements take into account the yarn needed to work the optional bust adjustment, but if you wish to lengthen your top you will need more yarn.
For hints and tips on yarn substitution, have a look at my blog.
Finished size, fit, and schematic 
The Tallulah top is designed to fit with 0-2"/0-5cm of positive ease at the bust.
As the Tallulah top has fit options, the best way to get the right fit is to start with your actual upper bust measurement. This is taken under the armpits, above your full bust, and gives a truer reflection of your overall frame than a full bust measurement.
Compare the finished chest circumference of this size with your full bust measurement to determine whether or not to work the optional bust adjustment; you can add either 2"/5cm or 4"/10cm to the bust of your top by working this adjustment. You then also have the option to add length to the front of your top to prevent it riding up, so you can create the perfect fit for you.
Note on yarn choice: If you're planning to use a plant yarn such as a linen, cotton, or bamboo, or with a pure silk yarn, then I'd recommend sizing down. These fibres lack the elasticity of a wool blend, and will stretch with wear, so you'll want to pick a size with negative ease.
Suggested needles (and notions): 
• 3.75mm (US 5) long circular needles 
• 8 removable stitch markers 
• Tapestry needle 
• (optional) 4 buttons
Gauge: 24 sts and 32 rows to 4in/10cm over stocking stitch, knit in the round using 3.75mm needles.